Services tailored to your needs.
We hold two truths to be self-evident:
Our communities are more challenged than ever by weather and climate threats, and
Our communities do not have unlimited budgets to adapt to these threats.
In order to maximize the effectiveness of budgets for adaptation, we believe that resilience planning should meet three criteria:
Vulnerability should be quantified. We believe that understanding how people and assets are vulnerable to specific threats is vital to understanding what actions will help a community become more resilient.
Assessments should be localized. Furthermore, we believe that understanding where people and assets are most vulnerable is vital to the effective application of solutions.
Actions should be targeted, implementable, and equitable. We believe that adaptation actions need to be considered within the unique context of a city or county and that solutions that address sensitive populations should be considered alongside solutions that address infrastructure.
With these principles as our guide, we deliver a comprehensive process that identifies and quantifies your community's specific risks and helps you prioritize and communicate your actions to adapt. In addition to a tailored and localized set of analysis deliverables, our facilitated process and supporting tools build capacity and align ongoing resilience efforts with your community's unique circumstances and needs.
Our team co-developed the federal standard "Steps to Resilience" framework with the National Oceanic and Atmospheric Administration (NOAA) to help communities understand risk and build resilience to climate and weather threats. The steps below outline how we apply this process to local government resilience planning projects. We recognize that one size does not fit all and that many local governments often have already made considerable headway in one or more of the steps outlined below.
Wherever your community is in the adaptation process, we can help you confidently take action for resilience.
How do you get started? We help you identify your community's natural and socioeconomic stressors, framed by past impacts, current trends, and evolving conditions. Our expert team meshes your local experience and data with our large catalog of climate threat and socioeconomic data to build an inventory of your community's key Asset-Threat Pairs.
In a facilitated data-driven workshop and accompanying report, you gain an understanding of regional stressors that drive vulnerability at a local scale, including critical thresholds for factors such as extreme precipitation, flooding, and extreme heat, as well as social vulnerability and equity factors.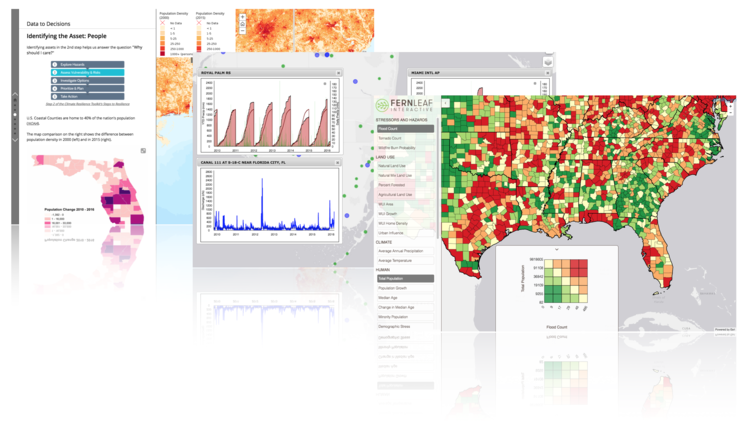 How do you quantify risk? We deliver a quantitative analysis comparing your vulnerability and risk across threats like flooding, landslides, and wildfire for assets like businesses, critical infrastructure, and residential property. We perform a sector-by-sector, asset-by-asset assessment at an individual property level across your entire community. This analysis is driven by your local property data, ordinances, and building codes, and includes social vulnerability metrics for a comprehensive analysis tailored to your needs.
Leveraging the power of the AccelAdapt engine, we tailor these analyses into an easily understandable report of comparable Asset-Threat Pair profiles. These profiles are local assessments presented at a neighborhood scale for easy spatial comparison of risk by sectors and threats, as well as social factors that provide an additional lens to vulnerability. Not only do you gain insights on the threats pose the highest risk for your community, you also understand where in your community people and assets are most vulnerable. This report can be integrated into your community's existing hazard mitigation, comprehensive, and other plans.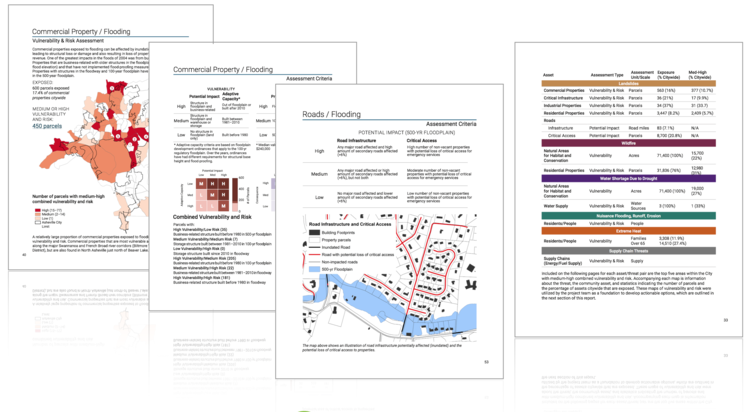 How do you put this knowledge into action? We help you identify and sort through the hundreds of potential adaptation options to move from analysis to action. Incorporating your data for different project options, we cooperatively work with you through a facilitated decision support process that helps prioritize the best resilience investments, including determining potential risk reduction, cost effectiveness, and equitability. We also incorporate cutting-edge interactive visualizations to help you evaluate different options and communicate priorities to stakeholders and constituents.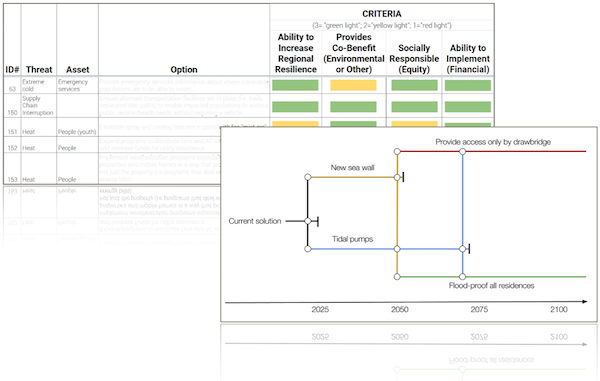 How do you continually assess? With our AccelAdapt solution, your resilience assessment never goes out of date. Built on the ArcGIS Platform, AccelAdapt continually incorporates your local parcel, building, and asset data to give you a continually updating understanding of your vulnerabilities and risks.